Thursday 26th March - Good Morning Year 5! We hope that you are having a good week. The projects that you are doing look great so really well done. We are adding a writing task and some arithmetic today so if you can please have a go. Also, don't forget about those spellings!! Please remember that you can share any activities that you have been doing by sending photos to year5@middlestreet.brighton-hove.sch.uk. Or you can just email to say hello. Have a lovely day and we look forward to hearing about what you have been doing. Take care. Dom and Laura.
It's lovely to see Morgan's design for his island: Snake Island (and a little shot of Eli the cat). Great to hear about you and Woo having some competitive action on Sumdog.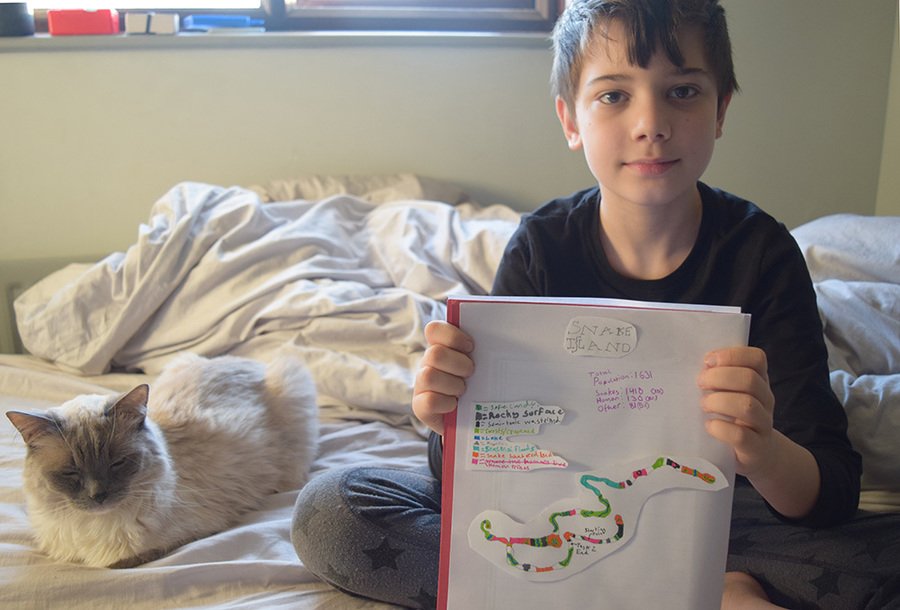 Here is a great slideshow of Bella completing some art work.
Monday 23rd March - There are now two maths quizzes live on the diagnostic website. One about rounding and one about using rounding/estimating to check answers. These quizzes will be live until next Monday when new ones will be added. If for any reason you can't login or have lost your login details please email the address above. Good luck with completing the work. We look forward to checking your progress as the week goes on.
White Rose (a maths mastery company) have released a weeks worth of maths learning with videos, activities, and the answers. If you would like to do a maths lesson a day with your child please follow the link https://whiterosemaths.com/homelearning/year-5/
It's great to hear how you are all getting on so please do use the year five email to share your learning or thoughts.
Well done to Luqman. Bella, Moragn, Chun, Ned and Bart who have all had a go at their maths quizzes.
Special shout out to Bella for sending some pictures of her great Viking work. One is posted below. It is also great to see some creative science learning going on. Here is also a picture of Ellis and Bly learning about silly string.
Hopefully you are all looking after yourselves and keeping busy and safe.
Hello Parents/Carers and all of lovely Year 5! As you are all aware school has had to close for all our safety. However, to keep you busy you were given a book with lots of Viking activities. We hope this is going well. The website will be added to with activities on a Monday and Thursday as the weeks go on so please remember to check. Arithmetic Friday will continue so check at the end of the week for the tests!
Sumdog is a great website which has been made free during this period for home learning. We have sent out a ping to parents and carers with your individual username and logins so you can investigate the fun learning opportunities for math, reading and spelling. We can also log in and play against you so watch out! The links are on this page.
We would love to see what you have been up to, so if its okay with your adult, take photographs and send them to the email on this page. If you want to share with the rest of the class let us know and we can put them on the class page.
It's important to keep active so we have put some links on the page to give you some ideas.
Don't forget that you are all brilliant and do not hesitate to get in contact if you have any queries.
Please find below our email address. If you wish to ask any questions about your child's learning you may use it to do so. Emails will be responded to on a Monday and Thursday within normal school hours. Thank you for your support in this current climate.
year5@middlestreet.brighton-hove.sch.uk
Take care
Dominic and Laura.
Hi there
Here are the web links for the maths activities for Monday and Sumdog...enjoy!
Spring
The teachers in year five are Dominic Smart and Laura Burrows. Laura teaches Monday, Tuesday and Wednesday morning. Dominic teaches Wednesday afternoon, Thursday and Friday. We currently have a student teacher, James, who will teach lessons across the week.
Year five will have PE on a Monday and Thursday afternoon. This term Monday will be gymnastics and Thursday will be swimming.
Spelling homework will be given out every Friday and is due back in the following Thursday. Children will be given five of their spelling words each week. You can find the list of words on this page.
Every Friday children will have a timetables superhero challenge, these can be practised at home over the week. A good site for times table is hit the button. https://www.topmarks.co.uk/maths-games/hit-the-button
Year five go to lunch at 12:35 so it is a good idea for all children to have a healthy morning snack.
This term our learning journey is......... INVADERS!
Year five and six had an exciting start to their learning journey - completing a carousel of Anglo-Saxon activities in the hall. Here are some pictures from the day:
Click on the link below to go to our new maths homework website: